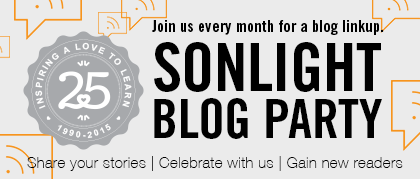 ---
I'm excited to be able to join the April
blog party
and this month's prompt is:
Share a day in the life of your family. What does your family's homeschool schedule look like?
We've tried a few different things since our family dynamics keep changing. When it was just Hannah and she was only doing preschool, we spread everything out over the day and did little bits here and there. Then, we had to add in Benjamin. Then we moved up to more course work. . . then we had some struggles with math, then we joined a homeschooling group. Then we added baby J. And every time, our schedule had to shift / morph into something new. So, moral of the story is. . . this may be what our typical day looks like right now, but we end up changing things as needed to make it work as life happens.
We tend to have two or three outings with our group or to do errands during the week. I try to have at least two full days at home to give the kids downtime. That doesn't always happen but I can tell when they miss it and need to relax.
I 'plan' our week on Sunday evening usually. Since Sonlight has the instructors guides, I really just get the next week's materials out. Instructors guides for core, la, and science. Worksheets. Preview what we will be reading. Check what outings we have so I know when to try to squeeze stuff around. Takes me about an hour.
Due to our outings, my current goal is to get the majority of our work done in the morning each day, it looks something like this:
7:30 Breakfast with daddy
8:00 After daddy leaves, time to get ready for the day, get dressed, brush teeth and hair, make beds (pick up stuff we didn't get picked up last night, haha)
8:30 Bible and morning devotions
9:00 Ben history and read alouds
9:15 Hannah history and read alouds
9:30 Snack and math for both
Free time when done with math*
11:00 Language and Reading
12:00 Lunch
12:30 Quiet time (aka leave mommy alone time)
1:30 Science for H, Science for B
3:00 Pool time
4:30 Catch up on anything we're behind on, which is usually more science
6:00 Dinner with Daddy
8:00 Night devotions with Daddy
8:30 Bedtime
*Free time – the kids have free time anytime they aren't working with me, or anytime they finish their work and it isn't time to do the 'next' thing. So even though the schedule looks busy, they really each have a lot of free time. Hannah often gets multiple drawings or stories done and Benjamin manages to get out 500 little blocks or animals or people and spread them all over the house by the end of the day!
Obviously, this is our ideal and it very rarely happens. I have an infant, not to mention a 5 yo and a 7 yo. We try to do outings in the afternoon but sometimes field trips happen in the morning and we have to shift. Sometimes, I'm just worn out or the kids are being cranky. Sometimes Daddy gets to do left over readings and experiments on the weekends. I'm usually pleased if we can at least get our bible, core history, and reading done each day!
Things I've learned. . .
-relax
-it's ok to spill over, we have 36 weeks of material to do in 52 weeks of time
-it's ok to say no, sometimes we need to stay home and not do every activity
---