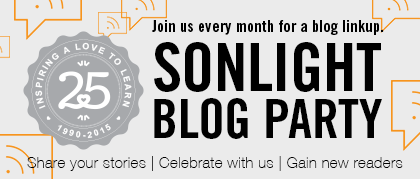 In the beginning. . . they are so little!


Hello fellow Sonlight Bloggers and other curious readers!
---
I'm excited to be able to join the February
blog party
and this month's prompt is:
Share how you first decided to homeschool. How did you decide on a curriculum?
My first child has been my guinea pig. . .this is probably true of lots of oldest children. When she was first born, I wanted to be able to continue working so we put her in day care at 6 weeks old. Then I went down to part time and she still went to day care part time. Then, we were pregnant with another child and we worked out how much it would cost for two in day care vs having an at home nanny/care taker and opted for the more personal approach to their care. At this point, I still wanted to work part time so I started out trying to find something that could be split between myself and my part time nanny for my little girl to do. There may be more options out there now, but P4/5 and P3/4 were the best thing I could find at the time. LOVE the Instructor's Guides! I ended up making my own schedule for P3/4 based on what I saw had been created for P4/5. It was so easy to come home mid-day and see what my daughter had already done with my nanny and what I still wanted to do with her based on the schedule for that week. At this point in time, I am not really thinking homeschool yet, just a preschool option. During those two years, I continued to run into homeschoolers at church and work and had some blogs I started to follow as well as participating in the Sonlight forums. Little by little this became our lifestyle. Moving on to Core A and 'doing homeschool' seemed natural by the time my daughter was 5 and my son started P3/4 that same year. I quit working part time to stay home and be a homeschool mom. We became 'official' in the spring of 2014 when I was legally required to file an affidavit to homeschool.
So while my first experienced daycare, a nanny, then mommy at home and homeschooling, my second only experienced a nanny and mommy being home, and my third (born on Feb 23rd, 2015!) will hopefully only ever experience homeschool mommy. I'm looking forward to going through these wonderful learning experiences at least one more time. 🙂
Since I started with Sonlight and it has been working for us, we've just continued to purchase it. I am more aware of other options out there now and sometimes we supplement with other things, but we're pretty content with the material we get from Sonlight being our main yearly curriculum. We're now on our 4th core for my daughter and 3rd core for my son and I'm watching out for the materials I need for the next one.
---
I have written and updated a couple pages for our site over the years for my family and friends that also address this month's prompt:
Why Homeschool?
Why Sonlight?
---