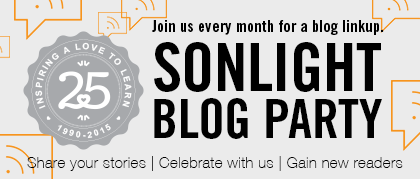 ---
(Click to enlarge)
I'm excited to be able to join the June blog party and this month's prompt is:
Share your favorite summer reading and learning activities.
So far, our summers aren't very different from the typical school year time frame. We have tended to run a somewhat year round schedule due to vacation times and other life events. That being said, we do usually end up with some amount of weeks 'in between' when we finish a year of curriculum and when I want to start the next year. During these times, I don't really want to have a break (because my kids might drive me crazy) so I find myself trying to do unit studies or other activities in an area of interest for my kids. Last summer, my daughter wanted to learn cursive, so we added that to the schedule between Core A and B. This year, she has decided she wants to be a fashion designer so we are going to attempt to make/sew some outfits to see how interested she really is! 😉 My son hasn't been as easy to add interest topics yet, but he is still in the middle of kinder and I think we'll find some as he gets a little bit older. During these 'tweener times, I like to add some of my favorite books to read that we haven't done yet in our regular curriculum.
As for other activities, we usually love our local library's summer reading program and try to do other programs that we find out about like Barnes and Nobel for free goodies. Last summer our kids even made it into the local paper when they attended the library show! (My blondies pictured by the red arrow)
There are usually tons of local offerings and outings due to public school being out so we try to take advantage of any fun stuff we hear about as well as spend more time in the pool or at the beach. 🙂